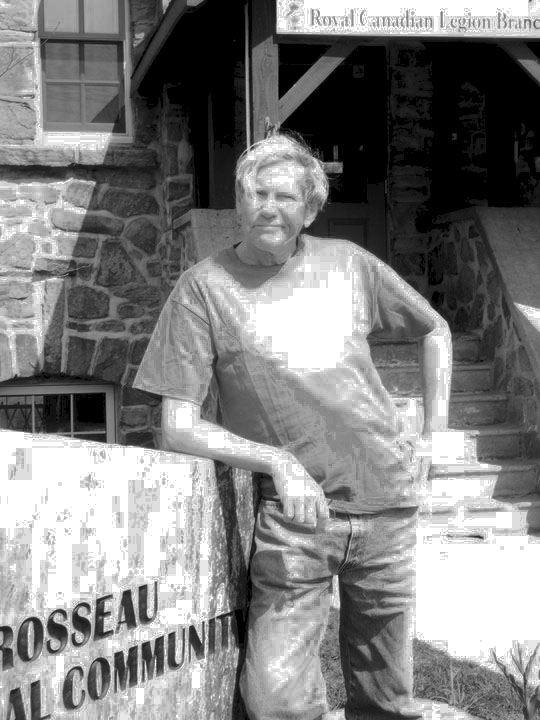 Here I am at the Legion / Library / Community Centre in Rosseau, Ontario, for Rosseau Farmers Market's AGM in 2010.

I thoroughly enjoyed my five years as President of the Board (though I don't know if the Board always enjoyed me!).


I was born in St. John's, Newfoundland, and lived my childhood years in Halifax, Nova Scotia. My father was from Lunenburg.(The Messers were among the alpha settlers who arrived in Halifax in 1750, and founded Lunenburg In 1753.)

In 1953,the family moved to Toronto, where I attended Oakwood Collegiate Institute. After finishing highschool, I travelled and worked in Europe and lived twelve years in Sweden, where I earned a Filosofie Kandidat (B.A.) at the University of Göteborg. Subsequently, armed with a B.Ed. from the University of Toronto (History, ESL, & Driver Education), I then taught English as a Second Language and Driver Education.
Letters to the Paper
Norman Bethune
Canada / China Hero
Medical Doctor, Innovator & Humanitarian Extraordinaire
His birthplace in Gravenhurst
is a National Historic Site

See Pics of the Doctor in Action
"The basis for cultural promotion and exchange should be on further enhancing the Bethune spirit."
(Quote from the twinning agreement between Gravenhurst, Ontario, Canada and Tang County, Baoding City, Hebei Province, China)
Politics & History
I have always had a strong interest in politics and history, and I drew on it in writing my first book, The Conquest of Canada: A Novel of Discovery. This epic adventure is set at the dawn of Canada's history.


Fraudsters & Tormentors
I also love to lampoon fraudsters and tormentors. I tackled tormentors in The Sink, a road novel with a unique perspective on the road behaviour of Canadians.

Fraudsters are my target in Farmers Market, a novel that, unsurprisingly, cost me my membership in several (so-called) farmers markets.


Believers & Infidels
Verus and the Grand Assembly of Believers is a story that, through a fundamental transformation of the human race, brings the age-old conflict between Athens & Jerusalem, reason & religion, to a final resolution.


Other Works I Have Published
I have published works by two other authors: Roughing It in the Bush, which is Susanna Moodie's own account of her life as a pioneer in the woods of 1830s Upper Canada; and a novel by submarine commander Baron Stephen King-Hall, Under Enemy Eyes , which is a U-boat adventure—with mystery and romance.